INDIVIDUAL REPORTS AND WORKBOOKs
MyEMQ Individual workbooks are ideal for:
Development initiatives and programs.

Employee value-add gifts.

Compliments to workshops or events.
They can be stand-alone, branded for your company, and/or aligned to your program. They consist of:
Overview of overall distribution across the 74 competencies.

Individual overview of the 12 factors.

Analyst report of patterns in energizers and de-energizers.

For the top opportunities:

Behavioral analysis: what to start, stop, and continue.

Information and education: to build awareness around the impact of the attribute.

Cognitive development exercises: to work on creating energizing behaviors.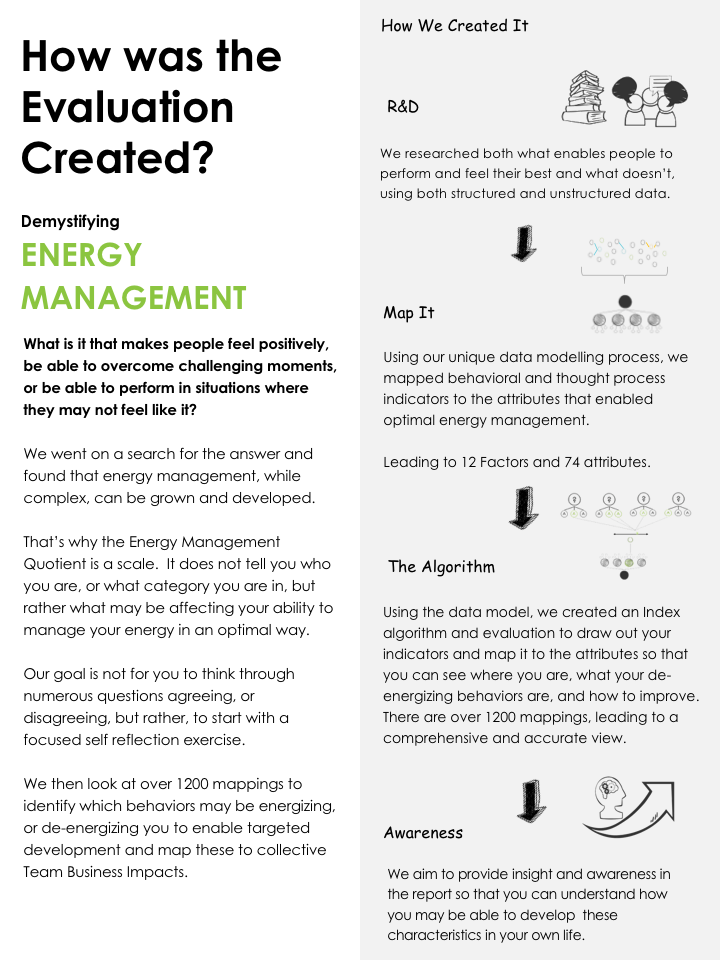 GROUP ANALYSIS
MyEMQ Group Analysis is ideal for:
Leadership or manager understanding of groups, teams, or the organization.

Supporting HR initiatives for stress management, engagement, and wellbeing.

Compliment to workshops and events in which the collective data can be used to drive meaningful discussions.
They can be branded for your company and consist of:
Overview of the collective energy distribution.

Group FUEL wheel to show levels of stress, burn out, engagement, and renewal.

Group overview of the 12 factors of positive energy management.

Top 10 opportunities to increase wellbeing, engagement, performance, or culture.

Behavior analysis and guidance for the top opportunity to identify the exact organization behavior that needs to be transformed.

Additional breakdowns can be included to show team level behavioral diagnostics.
EMQ JOURNAL
Structured journaling is a core part of the process, utilizing digital tools, and based on our behavior change process, coaches and participants are able to see the needed insights to best direct coaching, techniques, and programming for rapid, sustained results.
Note: sample is redacted to protect sensitive information.